Waterloo - Cedar Falls Courier Pulse
Oct. 15, 1998
Lynch Mob
By Susan Bosch
Photos by Dan Nierling
---

Click on photo for larger image
Director David Lynch, above, observes the action on the set of his latest movie, 'The Straight Story.' The film, currently shooting in Northeast Iowa, tells the tale of an elderly man who rode his lawnmower across the state to visit his brother in Wisconsin.
David Lynch overruns tiny town with hordes of extras, assistants and equipment - but no one seems to mind.
Alvin Straight couldn't be stopped once he came on an idea.
"Whenever he set his mind to doing something, he was about like a train on a track," said Straight's son, William, the middle of seven children.
Much has been written about the 73-year-old man who rode a 1966 John Deere mower 240 miles to see Hank, his older brother, four years ago. But questions remain as to who the man really was behind the white beard, thick glasses and cowboy hat.
"He was a real straight forward person, real good at setting goals," William said.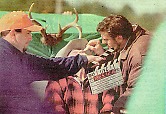 Click on photo for larger image
Actor Richard Farnsworth, in the middle above, sits patiently as crew members put artificial tears in his eyes.
Asked to illustrate what he meant with a story about his father, William added, "It's kind of hard to condense a person into one story."
There was more much to Straight, now known as the "lawn-mower man," than his road trip.
"If I was to have Dad sit down and write a resume, it would be a long one," including these titles: bounty hunter, farmer, rancher, carpenter and coal miner, William said. "Dad never let grass grow under his feet."
Straight raised his seven children with high moral standards, William said. So even though they moved around a lot, to Oregon at one point, William and his siblings always knew what was what at home.
As with many families, not everyone got along all the time. This was probably a part of Alvin Straight's motivation to ride his mower to his brother's house. When Hank had a stroke, Alvin knew his time, too would eventually run out. So as quick as he could, Alvin went to his brother to mend some previous hurts.
Unlike many accounts in the media, William reported his father was not legally blind, he just couldn't see well. Alvin had a valid license just before the trip, but for reasons of self-preservation, decided he would be better off not renewing it.

Click on photo for larger image
A cameraman, above, waits for the signal as Lynch discusses a scene with Farnsworth, who portrays Alvin Straight in the film. Farnsworth's previous film credits include roles in 'Anne of Green Gables' and 'Lassie."
Making the movie
Devoted to their father, William and his brothers and sisters were hesitant to say yes to a movie, which could easily misrepresent who the man really was.
"A movie is basically bits and pieces of a person's life," William said. "'At first we were kind of stand-offish."
A look at the script written by Mary Sweeney and John Roach, though, changed the family's mind.
"She is really serious about this. I don't think it could be in better hands," William said.
The family looked into what kind of work director David Lynch had done, too, coming away with the feeling they had the right man for the job.
"He can do a heart-tugging teary-eyed movie", or take you to the far left and make you think, William said. "He's just so gifted and versatile."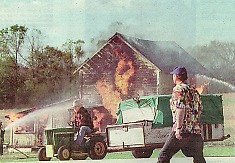 Click on photo for larger image
Crew members and local firemen, above, stand by during one scene of "The Straight Story." The film is scheduled to be released in theaters sometime next year.
Lynch hit the mark picking Sissy Spacek for the role of Dian, William's younger sister who helped their father prepare for his trip.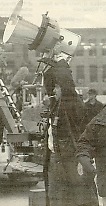 Click on photo for larger image
A light technician helps spot the shot on the set of 'The Straight Story' as it films in Clermont.
The family spent two days on the set in Laurens, watching and listening as the beginnings of their dad's journey took shape before their eyes.
William said he and his younger brother were in the kitchen while the crew was filming in the living room of his father's house. Spacek and Dian were in the room together, with Dian giving input to the performance.
"It was hard for us to separate between Dian and Sissy," William said.
Without giving details of what the movie will encompass, William said, "It's going to be so entertaining."
How do you make a five-mile-per-hour journey riveting? We won't known until sometime next year, when the film is planned for release.
Scenes of Alvin, played by Richard Farnsworth, crossing the Mississippi River were scheduled for this afternoon, with crews wrapping up sometime early next week. Editing should take about four months, finishing by the end of February.
No distributor has picked up the film yet, but with all the media attention, that shouldn't be a problem.
Back to the Straight Story articles page.
---
The Straight Story is copyright The Picture Factory, Les Films Alain Sarde and Le Studio Canal Plus.
These pages contain information copyrighted by other individuals and entities. Copyrighted material displayed in these pages is done so for archival purposes only and is not intended to infringe upon the ownership rights of the original owners.