Waterloo - Cedar Falls Courier Oct. 6, 1998
Setting it Straight
By Susan Bosch
Photos by Dan Nierling
---

David Lynch, director of the film "The Straight Story," hails the camera truck after his crew inadvertently left him behind on it's way out for the first shot of the day in New Hampton.
Movie production company mows through Northeast Iowa telling 'The Straight Story'
Worn blue jeans, wrinkled flannel shirts and dusty cowboy hats framed the two weathered faces, which were covered in faded-blonde beards. The two could be brothers, even twins from a few yards back.
Although their paths never crossed before they met on the set of "The Straight Story," actor Richard Farnsworth and farmer Ralph Feldhacker joke they could be siblings.
"I call him my older brother," laughs Feldhacker while chatting with Farnsworth on the set Monday in New Hampton.
Alvin Straight, the man who rode his 1966 John Deere lawn mower across the state four years ago to see his ailing brother, is played by Farnsworth, while Feldhacker plays his double for the technical setup crew.
In the last 20 years, Farnsworth made a name for himself acting in westerns and family films such as "Lassie" and "Anne of Green Gables," much like the role Feldhacker plays in real life at his dairy farm and ranch in Barron, Wis.
Together the two bring "Straight" to life. Without Feldhacker, Farnsworth would have to work many more hours under the camera. Instead Feldhacker does most of the hurry-up-and-wait routine, sitting under an on-again, off-again mist most of Monday while the 100-member film crew worked out the logistics for that day's shoot.
The, work in New Hampton began long before cameras arrived, with director David Lynch and others scouting locations at least a month ago. Lynch contacted New Hampton grocer Matt Anderson about four weeks ago, asking if the crew could rent his old Amoco building to use in a scene. "Somebody just called me and I thought it was a joke," Anderson said.

Actor Richard Farnsworth, right, and his photo double, Ralph Feldhacker, a dairy farmer and rancher from Wisconsin who nearly mirrors Fransworth's Image, wait for action on the set in New Hampton Monday.
Anderson and his wife Janice soon realized the truth, working out an agreement that suited everyone. A construction crew installed a false front on the building last week, turning the station into Computer Cosmos, a downtown store real only in the script.
According to Luis Racer, assistant director, "A lot of the movie is just prettied up."
Filming was wrapped up late last week in Laurens, Straight's hometown. The convoy pulled out of Laurens early Monday to travel southeast to New Hampton, where they worked all day to put together what will result in only a few minutes of actual footage.
During his 1994 adventure, Highway 63 south carried Straight quite a few miles, all the way to and through New Hampton, after a little snag with local authorities. Just after Straight entered the town of about 4,000, a New Hampton police officer pulled him over near the old Amoco station for causing traffic to backup on the usually-busy highway.
Filming was to wrap up late Monday, with everyone heading to Clermont for the next scene. When Straight rode into the small community on Highway 18, firefighters were burning down a house on the cast side of town. The crew will instead burn a barn moved to the location for that purpose. That is scheduled for Thursday morning.
Film crew brings story to life
It takes a village to raise a movie.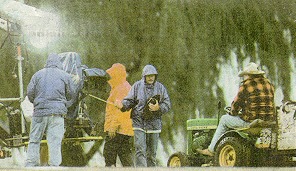 Crew members, right, make final camera and lighting adjustments in a downpour immediately before filming a scene of Alvin Straight, played by Richard Farnsworth, rolling into New Hampton.
Maybe not a large one, but a crew of 100 invaded this small town Monday, each with a unique role in the sometimes-boring, rarely-glamorous process of filming a motion picture.
Costumers, grips, directors of many sorts, prop masters and others roamed the lot of the old Amoco gas station in downtown New Hampton throughout the day during the filming of "The Straight Story."
Although cloudy, most of the morning was dry. Later in the afternoon crews, in addition to their usual duties, were tested by a downpour. Within moments of the first rain drops, they whipped out tarps, umbrellas and camera covers, so the action could continue.
An integral piece in any movie puzzle is costuming. The first images taken in are the costumes and scenes, setting the mood for whatever action might follow.
Zach Zacha, 68, began his work in the film industry in 1953, putting together just the right look for many actors - including Raymond Burr, better known as Perry mason.
"My job is basically, get it done before the filming starts," Zacha said. "I'm here first and last."
Zacha is the creator of Alvin Straight's look, based on the man himself and the image he thought such a man should project. According to Paul Klein, a truck driver who hauls equipment for the show, Straight had a beard to his waist and was an interesting character from what the folks in Laurens told him.
Klein is one of several truck drivers who ensure sound equipment, cameras and other supplies make it from scene to scene during filming. Asked why he would choose to spend months at a time away from his family, Klein first said there's a special satisfaction in knowing he had a role in making such a huge event, a motion picture, happen.
Then he added with a grin, "They throw lots of money at you. If I don't catch it, somebody else will."
A grip, as unromantic as it may sound, plays a key role. Grips control lighting by using screens and filters, casting shadows where needed and exposing full light at other times.
Much like dusting a house, this task is probably unnoticed unless someone fails to do it.
Although only one director takes top billing, other directors support the head director's position. Before David Lynch set foot on the scene, assistant director Luis Racer was on the move, seeing that everything and everyone were in the proper places so the show could go.
Back to the Straight Story articles page.
---
The Straight Story is copyright The Picture Factory, Les Films Alain Sarde and Le Studio Canal Plus.
These pages contain information copyrighted by other individuals and entities. Copyrighted material displayed in these pages is done so for archival purposes only and is not intended to infringe upon the ownership rights of the original owners.