West Union 1956 Chevy turns coveted movie prop
by James Q. Lynch
Gazette Northeast Iowa Bureau
Cedar Rapids Gazette, October 17, 1998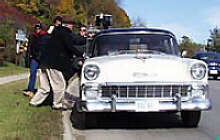 WEST UNION -- Although Kevin Vorwald won't appear in David Lynch's movie "The Straight Story" being filmed in northeast Iowa, he has quite a role.
It seems the 1956 Chevy station wagon the West Union antiques dealer sold Lynch to use in traffic scenes has become one of the most coveted props among crew members.
"Everyone is trying to figure out how they can get it after we're done shooting," according to Gaye Pope, publicist for Lynch's Asymmetrical Productions.
Rank apparently has its privileges, Vorwald said. Lynch told him the movie's writer-producer, Mary Sweeney of Madison, Wis., will end up with the car.
Vorwald, who operates Kevin's Antique Furniture, understands the appeal.
"I hated to let it go, but I've got too many cars," said Vorwald. He also has 1939 and 1940 Chevy coupes and a 1959 Cadillac.
So when Lynch called Monday about the car, Vorwald, who has had it for sale through the summer, was ready to do business.
"He offered me a fair price, and it's gone," Vorwald said. "Lynch called Monday morning. One of his people called an hour later, and the guy who cuts the checks called an hour after that."
Vorwald, who has restored a number of cars, says a 1956 Chevy station wagon in good shape would bring between $5,000 and $6,000 on the market here. Lynch paid him $6,250, he says.
"The Straight Story" -- with many scenes being filmed in Fayette, Clayton and Allamakee counties -- chronicles the 240-mile trip Alvin Straight made across northern Iowa in 1994. The 73-year-old rode a lawn mower from Laurens, in northwest Iowa, to Blue River, Wis., to mend his relationship with his dying older brother.
Vorwald said he didn't know anything about Lynch, whose credits include controversial and critically acclaimed films such as "Lost Highway," "Blue Velvet," "The Elephant Man," "Eraserhead" and the "Twin Peaks" television series. But he's enjoyed doing business with him.
In addition to the car, he sold the art director and set director for "The Straight Story" more than a dozen items to be used as props.
"They bought a bunch of chairs and cupboards -- even an outhouse I had out here," Vorwald says. Vorwald bought the station wagon from Wayne Sutter of West Union about four years ago. Before Sutter owned it, the car had been sitting in a yard near the North Fayette Middle School for about 20 years with a "Not for sale" sign in the window, Vorwald says.
The car is all original, except the cloth seat covers, according to Vorwald. It has 87,000 miles on it.
"I put about 3,000 miles on it the first summer I owned it, but probably didn't put 30 on it this summer. I just haven't had time to enjoy it," he says.
Back to the Straight Story articles page.