Norton E. 'Hank' Worden
(1901-1992)
Born Heber Snow in Rolfe, Iowa on July 23, 1901, Hank Worden was raised on a Montana cattle ranch and became a rodeo bronco rider. He was discovered in Madison Square Garden while performing in a rodeo. After some New York stage work, he moved into films, mostly westerns, playing sidekicks, henchmen, deputies, townsmen, etc. with his friend Tex Ritter and also with Bob Baker, Buck Jones, Gene Autry, George O'Brien, Hopalong Cassidy, Tim Holt, Range Busters and others. He wound up being part of director John Ford's stable of regulars, and is best remembered as Ol' Mose Harper in Ford's "The Searchers," which starred John Wayne. He is best known to Lynch fans as the Room Service Waiter (aka Senior Droolcup) on Twin Peaks. Worden died at his home in Brentwood, California on December 6, 1992 of natural causes at age 91.
---
John Boylan
(1912-1994)
John Boylan was born in Canton, OH, starting out as a founding member of the community's Player's Guild in 1932. His theater career eventually encompassed a few performances on Broadway. Moving to the Seattle area in 1978, Boylan went on to become a familiar face in Northwest theater. He appeared in several films including One Man, Sleepless in Seattle, Clearcut, American Heart and Waiting For the Light. Lynch fans know him best as Mayor Dwayne Milford on Twin Peaks. Boyland died of lung cancer November 16, 1994.
---
Alan Splet
(1939-1995)
Alan Splet was Lynch's sound designer for all of his films from the Grandmother through Blue Velvet. He was considered by many to have been the world's greatest motion picture sound designer. His evocative use of ambient sounds helped revolutionize the way we hear movies. In 1980 he received a Special Achievement for Sound Editing Academy Award for The Black Stallion. The next year the Academy recognized sound effects editing as a category worthy of an annual Oscar. Splet later received a nomination for the film, "Never Cry Wolf" in 1983. He died of cancer in 1995. Lynch reflects: "I loved Alan, you know, he was one of my best friends. It was just fun working on sounds with Al, because he was so enthusiastic - such a gifted, hard-working friend."1
A 3 cd set of Alan Splet's work is available from Sound Mountain. Discs 1 and 2 feature mostly sounds from his work with Lynch. Disc 3 features new sounds recorded exclusively for this collection. You can order the discs here, but they are priced for professional use at $295.00
Notes:
1. Chris Rodley (editor), "Lynch on Lynch," Faber and Faber, 1997, p.52
---
Frank Silva
(1949-1995)
Born in central California, Frank Silva received a master's degree from light design at San Francisco State University. He worked on several films as a prop master and set decorator, until a chance accident while working on the Twin Peaks pilot got him cast in the role of Killer Bob. He died of a heart attack September 13, 1995.
---
Marvin John (Jack) Nance
1943-1996
Jack Nance grew up in Texas and started acting while at North Texas State University in the 60s'. He dropped out of school in order to devote himself to theater, eventually moving to San Francisco. There he landed the role of Tom Paine in the critically well-received play of the same name. After the play's tour, Nance moved to Los Angeles, appearing in various films and plays over the years, including Motorama, Johnny Dangerously, Meatballs 4, The Hot Spot, and Colors. Lynch fans will best remember him as Henry Spencer in Eraserhead, as well as Pete Martell in Twin Peaks, Nefud in Dune, Paul in Blue Velvet, 00 Spool in Wild At Heart and Phill in Lost Highway.
Jack Nance was found dead Monday, December 30, 1996 by a friend who stopped to check on him. The cause of death subdural hematoma caused by blunt-force trauma . L.A. County Deputy Mark Bailey said Nance was punched in the head during a fight on the previous Sunday with two men at a doughnut shop. "Sometimes people irritated Jack, so he'd be verbally abusive," Lynch told reporters. Lynch said Nance was in poor physical shape. "Jack always said he wouldn't be too hard to kill." The case of his death is still open.

Jack Nance 1990 Starlog interview
Courtesy J.D. P. Lafrance

Jack Nance 1997 Premiere article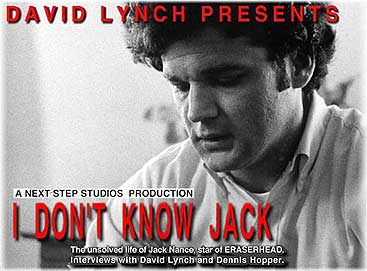 ---
Richard Farnsworth
(1920-2000)
Richard Farnsworth was born on Sept. 1, 1920 in Los Angeles and began his film career at the age of 16 as a stuntman. For 40 years he doubled for Roy Rogers and other Western stars but gradually began earning roles in his own right. He played the sheriff in ``Misery'' in 1990 and had roles in ''The Getaway'' (1994), ``Havana'' (1990), ``The Natural'' (1984), and ``Comes a Horseman'' (1978), for which he received a best-supporting actor Academy Award nomination. In Canada, he was nominated for that country's best actor award for his role in the 1982 film, ``The Gray Fox.'' Lynch fans will remember him best as Alvin Straight in "The Straight Story," for which he received a best actor Oscar nomination. At 79, Farnsworth was the oldest leading actor to receive an Oscar bid. "It feels a lot better because I'm getting up there in age and might not have a chance again," he said in an interview after he was nominated.
Farnsworth had said the heart of his performance in "The Straight Story," came from his respect for Alvin Straight, the real-life person on whom his portrayal of a 73-year-old man who rode a tractor across the country was based. "I admired him very much and tried to be as much like his character as I could, talked to two of his boys, who are now truck drivers, and we filmed along his actual route. Every time we stopped somewhere, people would come by and say, 'Heck, I remember when old Alvin came through,' and tell us about it," he told The Associated Press.
Richard Farnsworth was found dead of a self-inflicted gunshot at his New Mexico home he shared with his companion, Jule Van Valin on Friday, October 5, 2000. Farnsworth was suffering from terminal cancer, which had left him partially paralyzed. He struggled with the pain while he was working on "The Straight Story." "He was very ill in that movie, but phenomenally he made it through. He didn't want the world to know he was sick," Van Valin said. "He couldn't fight it, and cancer got him."
---
Jennifer Syme
(1972-2001)
Jennifer Syme was an assistant at Asymmetrical Productions and briefly appeared in Lost Highway as one of Pete's friends (she's credited as Junkie Girl). It was Jennifer who introduced Lynch to Marilyn Manson, leading to his appearance in Lost Highway, as well as Lynch writing the introduction to Manson's The Long Hard Road Out of Hell book. Long time readers of LynchNet and alt.tv.twin-peaks remember her from her posts in both the usenet group and the Lynch-List email list. During the filming of Lost Highway, she'd post updates on the production and other tidbits of info. She left Asymmetrical in 1999 to work in the music industry. Sadly, Jennifer was killed April 2, 2001 in a car accident in Los Angeles.
---
Jane Greer
(1924-2001)
Bettejane Greer was born to an ambitious stage mother. She began modeling professionally at the age of 12. In high school Greer performed in student plays before dropping out in her senior year to work as a vocalist with a nightclub band. In her late teens Greer posed for a WWII recruiting poster, which brought her to the attention of several studios, including RKO studio boss Howard Hughes. Her screen debut was in 1945, but it was in 1947's They Won't Believe Me that she first made an impression. Her most famous part was opposite Robert Mitchum and Kirk Douglas in Out of the Past. In 1953 she retired from film to raise a family, but returned over the years for a few roles, included that of Norman's mother Vivian in Twin Peaks. Greer passed away in 2001.
---
Royce Applegate
(1939-2003)
Royce Applegate's entertainment career spanned more than 30 years. He made guest appearances on various TV shows such as "Charlie's Angels," "Dallas" "Little House on the Prairie" and "Home Improvement." He played Chief Manilow Crocker in the 1993-96 TV series "SeaQuest DSV," which followed a crew trying to keep underwater peace as mankind colonized the oceans. Applegate appeared in such films as "Splash," "History of the World: Part I," "Gettysburg" and most recently "The Rookie." He appeared in two films in 2003, including "Talking In Your Sleep" and "Gods and Generals," where he plays Civil War Brig. Gen. James L. Kemper. Applegate played Father Clarence in Twin Peaks. He died in a house fire in 2003.
---
Ann Miller
(1923-2004)
Ann Miller was born Johnnie Lucille Collier in Chireno, Texas, the first name dictated by her father, who had wanted a boy. After her parents divorced, she was called Annie, for reasons she never knew. Growing up in Houston, Annie suffered from rickets, and dancing lessons helped straighten her legs. Her mother was almost totally deaf and could not find work. By the age of 12, Annie was almost full grown at 5 feet 5, and she danced to support her mother and herself. An appearance at the popular Bal Tabarin in San Francisco won a contract at RKO studio, where her name was shortened to Ann. Her first film at RKO, "New Faces of 1937," featured her dancing. She next played an acting hopeful in "Stage Door," with Katharine Hepburn, Ginger Rogers, Lucille Ball and Eve Arden. When Cyd Charisse (news) broke a leg before starting "Easter Parade" at MGM with Fred Astaire (news), Miller replaced her. That led to an MGM contract and her most enduring work. She was teamed with Gene Kelly and Frank Sinatra in "On the Town," Red Skelton in "Watch the Birdie," and Bob Fosse in "Kiss Me Kate." Other MGM films included: "Texas Carnival," "Lovely to Look At," "Small Town Girl," "Deep in My Heart," "Hit the Deck" and "The Opposite Sex." Miller's film career peaked at MGM in the late 1940s and early '50s, but she honed her chops into her 60s, earning millions for "Sugar Babies," a razzmatazz tribute to the era of burlesque featuring Mickey Rooney. "At MGM, I always played the second feminine lead; I was never the star in films," she once recalled. "I was the brassy, good-hearted showgirl. I never really had my big moment on the screen. `Sugar Babies' gave me the stardom that my soul kind of yearned for." The show opened on Broadway in 1979 and toured for years. In 2001 she returned to the silver screen for the role of "Coco" in Mulholland Drive.